Transcranial Magnetic Brain Stimulation Infrared TMS Physical Therapy Equipments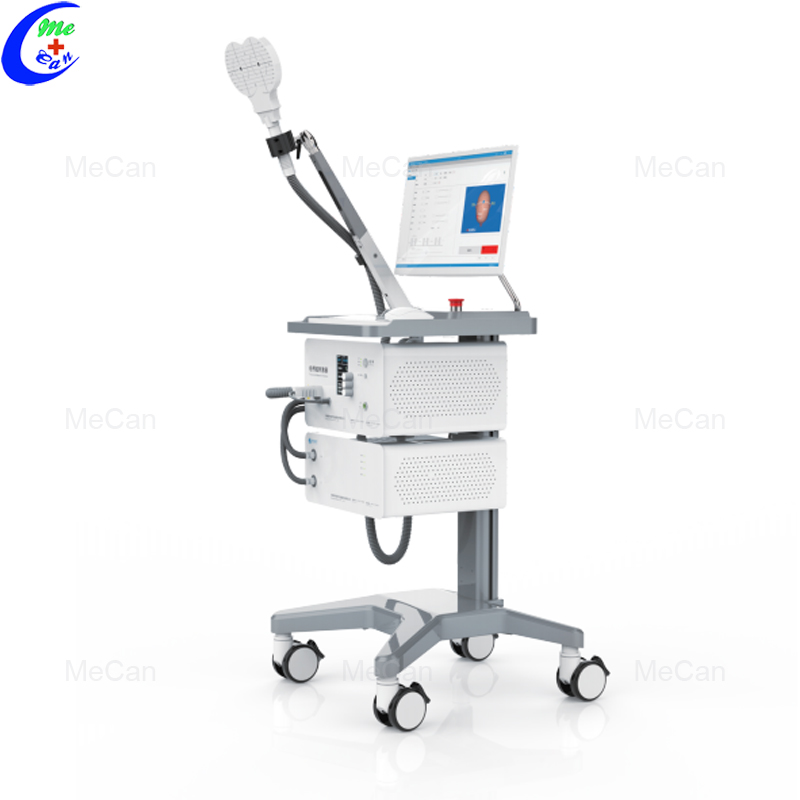 ◎Strong pulse current flows through the coil; ◎The coil is transformed into a powerful pulsed magnetic field; ◎Pulsed magnetic field passes through the skin and skull; ◎Stimulate the central nervous system (mainly the cerebral cortex); ◎Affect the metabolism and neuroelectric activity in the brain, causing physiological and biochemical reactions.
◎Integrated mobile cart workstation with large screen display, which is convenient for clinical operation; ◎8-shaped stimulation coil, easier to grasp the focus; ◎Stable cold cycle control system, with over-temperature protection function, to ensure that the machine can work for a long time; ◎A variety of optional stimulation modes, manual and automatic program stimulation, extensive clinical applications; ◎Magnetic field strength: 3T; ◎Information management function: massive information storage, search, analyse, report and other functions are available; ◎Support the inspection functions of motor threshold (MT), motor evoked potential (MEP), and central nerve conduction time (CMCT).
◎Non-invasive, painless, easy to operate, safe and reliable, without obvious side effects; ◎It can be used as an early diagnosis of the disease, better predict the progress and prognosis of the disease, and provide better support for subsequent intervention methods; ◎It can be used as a new type of clinical treatment of neuro electro physiological technology.
Clinical application range
1. Neurology: Epilepsy, Parkinson, Amyotrophic Lateral Sclerosis, etc. 2. Psychiatry: Depression, Obsessive-compulsive Disorder, Mania, Schizophrenia, Autism,Tinnitus, Sleep Disorders, etc. 3. Rehabilitation: Stroke, Spinal Cord Injury, Peripheral Nerve Injury, Motor Dysfunction. 4. Other departments: Postpartum Depression in Obstetrics and Gynecology, Neuro development in Pediatrics, Children with Cerebral Palsy.