Portable Hyperbaric Oxygen Treatment Chamber for Cancer
What is HYPERBARIC OXYGEN THERAPY?
Hyperbaric Oxygen Therapy Is the medical use of oxygen at an Increased level of pressure, (hyper) means increased, (baric) means pressure. Hyperbaric Oxygen Therapy is a treatment which enhances the body's natural healing process by providing an environment which allows the body to absorb much higher amounts of oxygen than possible at normal atmospheric pressure. It increases the oxygen transport capacity in the blood. This noninvasive therapy is the most trusted way to Increase oxygen levels to all organs of the body.
What is application of our hyperbaric oxygen chamber?
It Is used around the world to treat a wide range of conditions, Including autism, diabetic ulcers, strokes, traumatic brain injuries, migraines, wounds, inflammation, orthopedic rehabilitation, crush Injuries, and is becoming used in a much wider range as research develops. It is also used by athletes who wish to speed up recovery of tissue damage caused by hard training.
Treatments usually last for 60-90 minutes where the client lies in a comfortable chamber and breathes high levels of oxygen.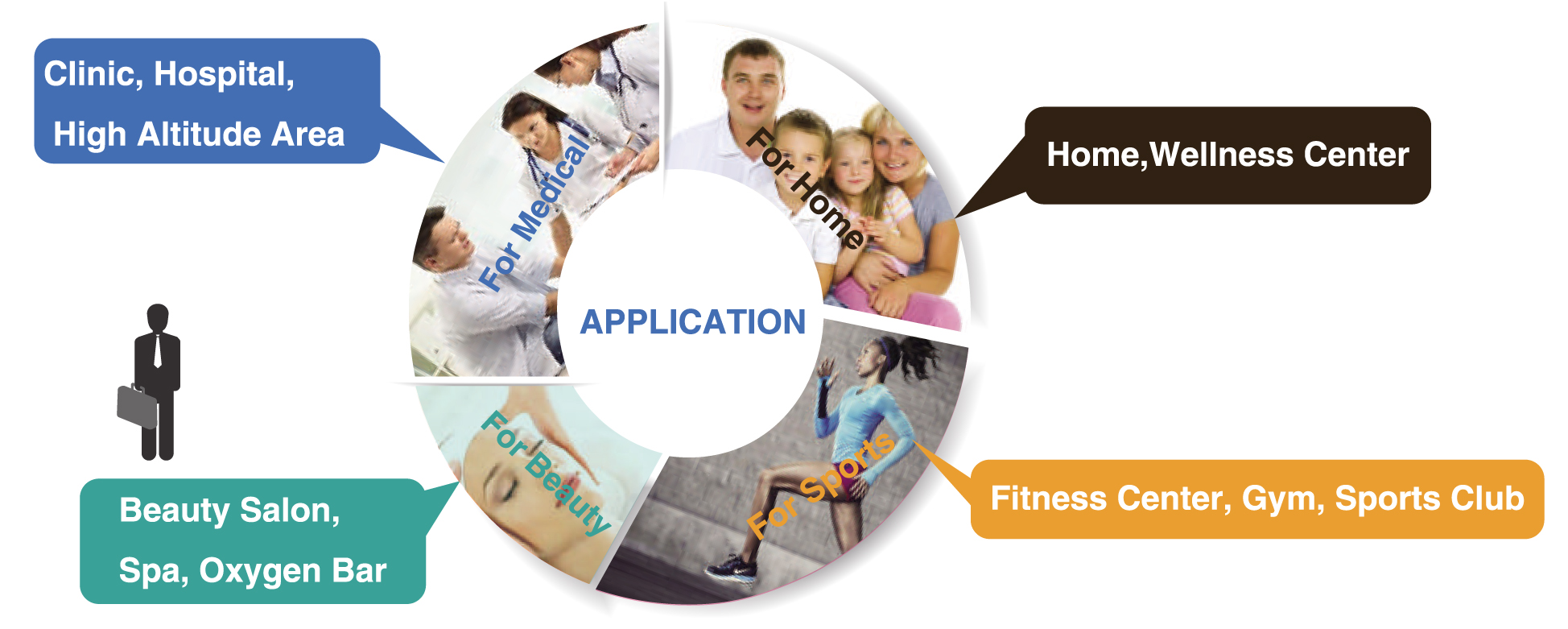 What are features of our hyperbaric oxygen treatment?
1.Slide type entry door.
2.75 and 90cm diameter optional.
3.Interphone system for two-way communications.
4.Automatic air pressure control system, the door is sealed by pressure.
5.Wide and convenient transparent viewing window.
6.Delivers 93% oxygen under pressure via an oxygen headset/facial mask.
7.Easy installation and operation.
8.Control system combines of air compressor, oxygen concentrator and cooling unit.
What is specification of our portable hyperbaric chamber?
hyperbaric oxygen chamber

Size 

225x90cm (89x36inch)

Weight

13kg

Feature

High strength material:TPU

Non-toxic/eco-friendly
Portable/foladable
Safe/one-person cooperation

Size

L*W*H: 39X24X26CM

Weight

18Kg

Feature

Oil free type

Non-toxic/eco-friendly
Quiet
Super adsorption activated filters
Double inlet and outlet filters

Size

38X26X47CM

Weight

27Kg

Oxygen Purity

≥90%

Feature

PSA molecular sieve high technology

Non-toxic/Non-chemical/eco-friendly
Continuous oxygen production, no need oxygen tank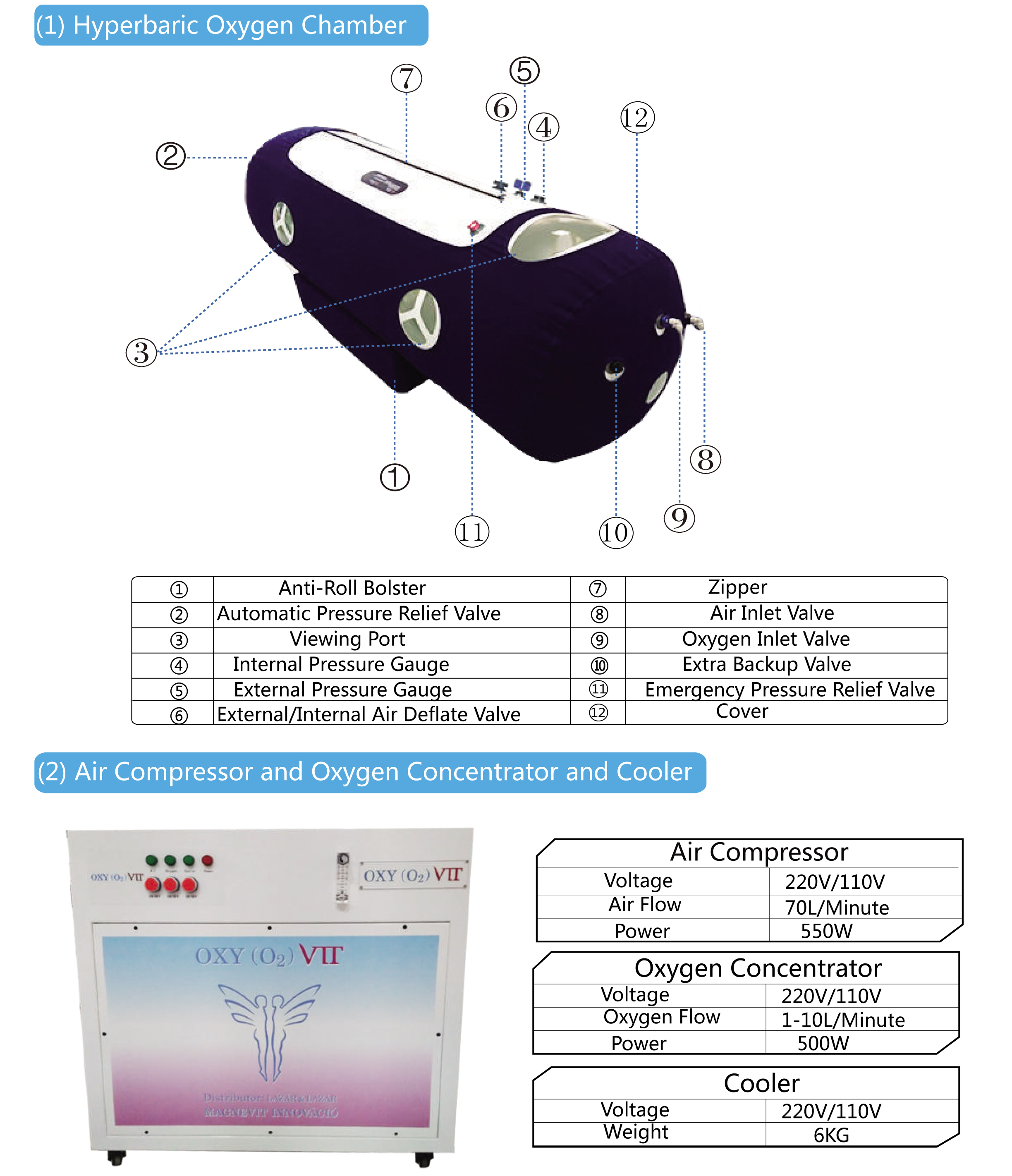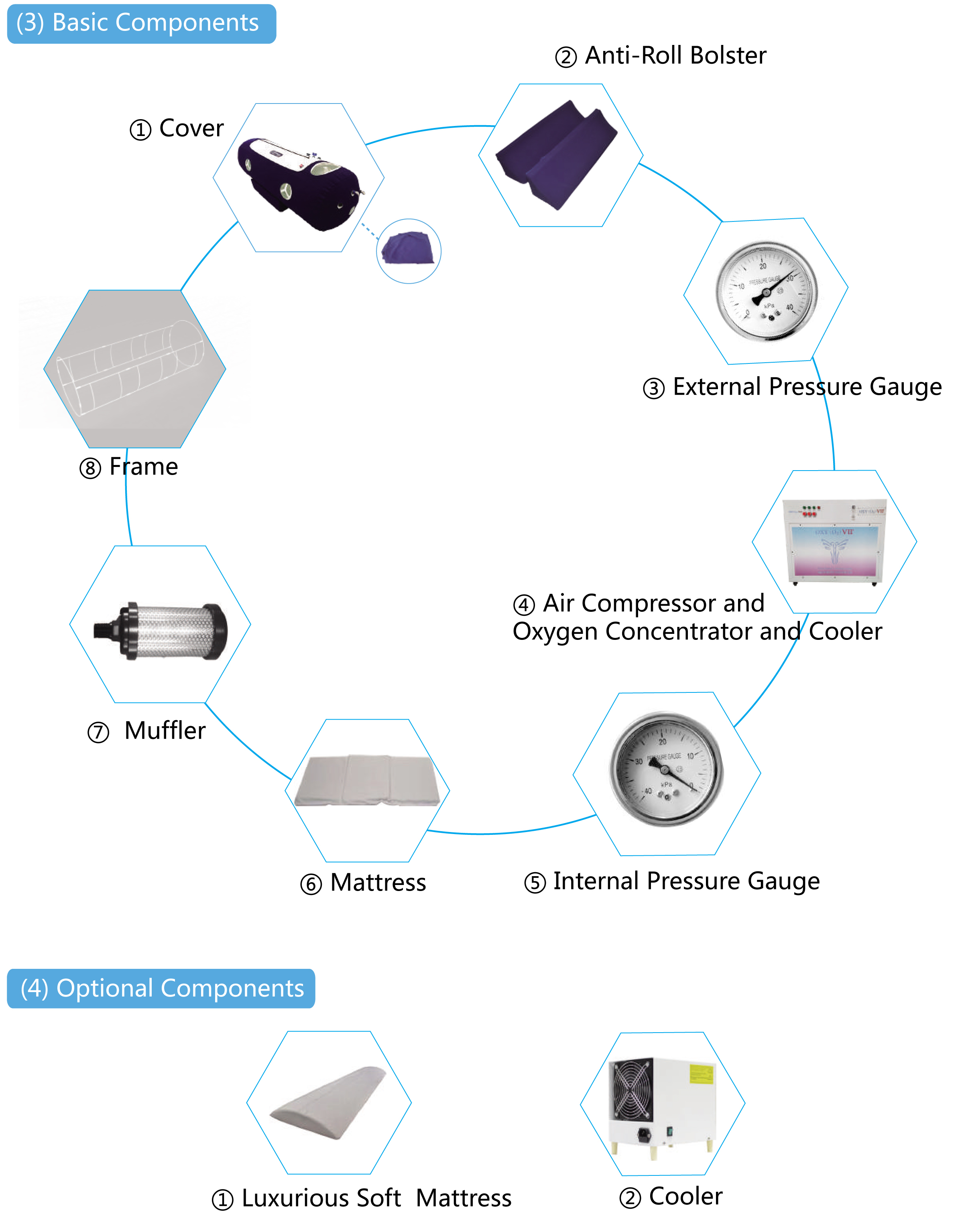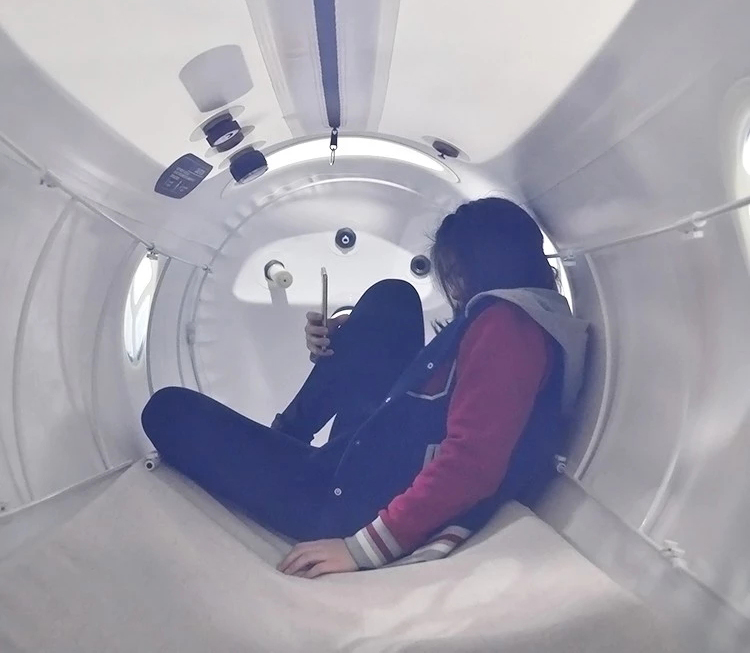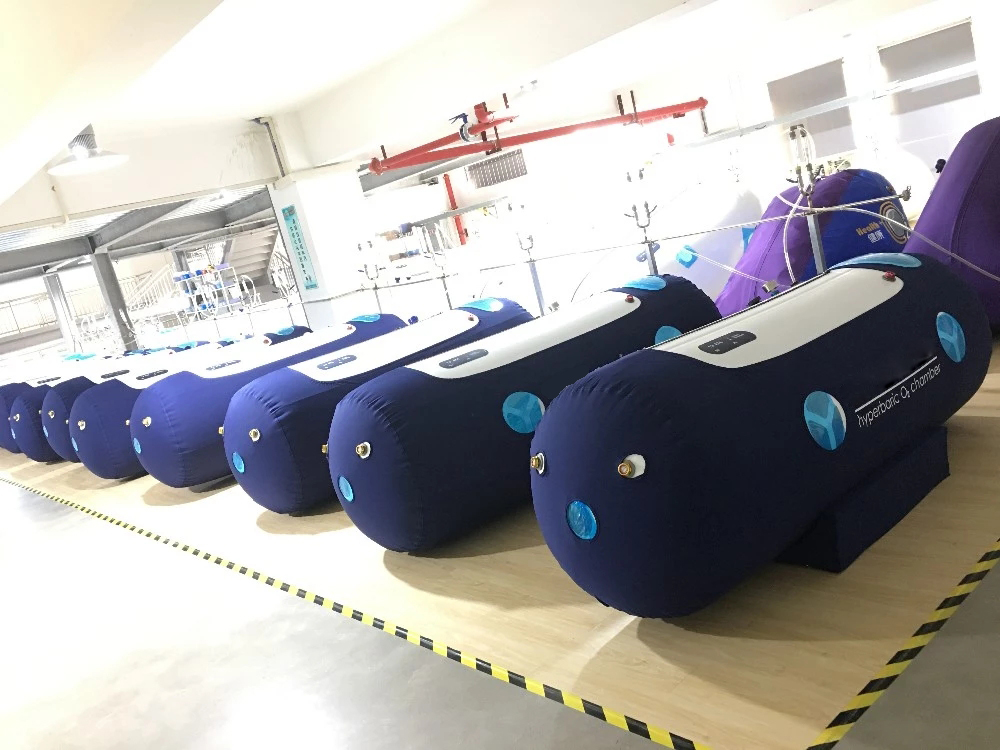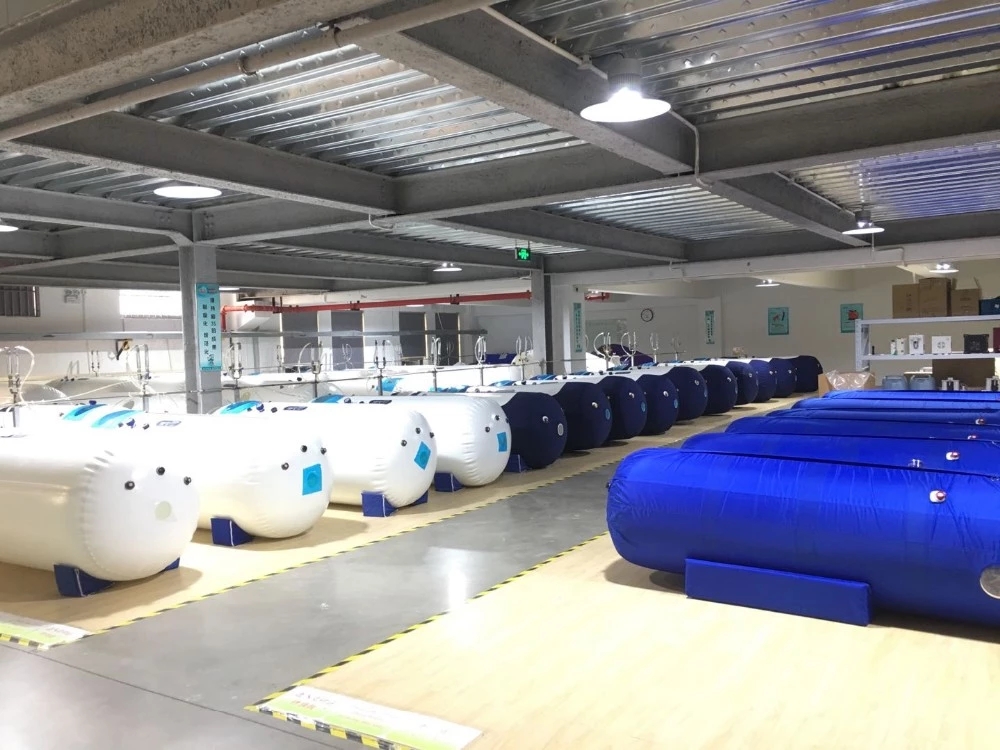 FAQ
1.What should I do to prepare for a treatment?
People can go into the chamber fully clothed. It is recommended to wear loose comfortable. Shoes, jewelry, or any sharp objects should be removed before getting into the chamber. It is recommended that women not wear stockings in the chamber, because it may cause feelings of claustrophobia.
2.How will the HBOT treatment feel?
The chamber will be filled with compressed air. Once the chamber has expanded to its filled size, it will start to pressurize. While the chamber is pressurizing, your ears will feel the change in pressure inside the chamber. Otherwise it should be unnoticeable. To equalize the pressure and avoid the feeling of fullness in your ears, you will need to clear your ears by chewing(gum or food), swallowing, yawning. During the pressurization of the chamber, your mouth may become dry. Once the chamber is fully pressurized, your salivation will return to normal. Additionally, the chamber may become slightly warm while it is pressurizing. Once it is to full pressure, the relief valves will begin to pull the warmer air out of the chamber. Then you can sleep, meditate, read, watch movie, listen to music, etc.
3.How long is the treatment?
Treatment times are usually 1-2 hours per session, 5-7 Times per week.
4.Is Hyperbarics good for the Elderly?
Most definitely. Hyperbarics is great for those in their later years. Hyperbarics provides an immeasurable boost which counteracts the signs of aging. In fact, new research indicates that hyperbaric oxygenation slows Apoptosis (cell death).
5.Is Hyperbarics good for Children?
Yes, hyperbarics yields wonderful results with children. In fact, research with children suffering from brain-injuries and genetic disorders shows positive results and great promise.We recommend that children under the age of 16 need to be accompanied by an adult inside the chamber.
6.How safe is the Portable Hyperbaric Oxygen Chamber?
Pure oxygen under pressure is extremely flammable. Monoplace hard chambers use pure oxygen under pressure, so safety precautions must be taken when using these chambers. While our chamber uses pressurized room air with an oxygen concentrator. Hence it is safe and not flammable. However, the chamber should not be exposed to any naked flame, cigarette or the like.
7.Are there any side effects?
The most common side effect is discomfort to the ears caused by pressure changes. To minimize the risk, patients learn to promote the adequate clearing of your ears during pressurization. Some patients may feel tired and dizzy after using hyperbaric chamber for the first time. It's a good signal as Hyperbaric Oxygen Therapy will speeds up the metabolism of our body, just like people feel tired after a long running. They are usually good signs of indicating detoxification.
8.Do I need a prescription or supervision to use the chamber?
No, you do not need a prescription to use the Portable Hyperbaric Chamber. If you are using the chamber to treat your health condition, we recommend you seek advice from your health practitioner.The Portable Hyperbaric Chamber is easy to use without the need for any supervision or specialised training. Pressure gauges and pressure release valves come standard in the interior of the chamber, and the zipper is double sided for easy and fast exiting if required.
9.Are there any contraindications for Hyperbaric Oxygen Therapy?
Never use the chamber while you catch a cold or flu symptoms.
Never use the chamber if you have rhinitis or otitis media.
Never use the chamber if you are pregnant.
10.How can I learn about the HBOT?
The most comprehensive book about HBOT is The Oxygen Revolution by Paul Harch, M.D. This book is geared toward consumers who would like to learn more about how HBOT works and what conditions it treats. The book explores the science behind HBOT, as well as case histories of patients who have benefited from HBOT.
Other type of hyperbaric oxygen therapy