Multifunctional Manual Hydraulic Surgical Operation Table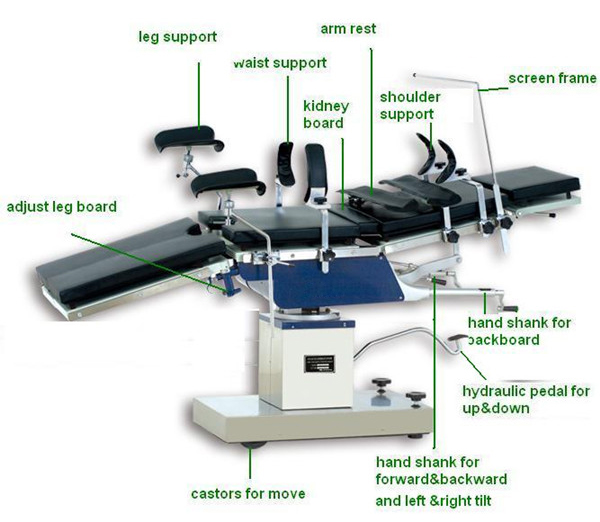 Application
Operating table featuring with integrated multi-function is suitable for various operations conducted by medical unit.
Features
1. Imported Y type sealing ring with good sealing performance and it is durable.
2. All movements are manipulated from the head.
Standard Accessories
A pair of shoulder and waist support frame, a pair of arm resting frame, a pair of leg support frame, a screen frame.
Optional Accessories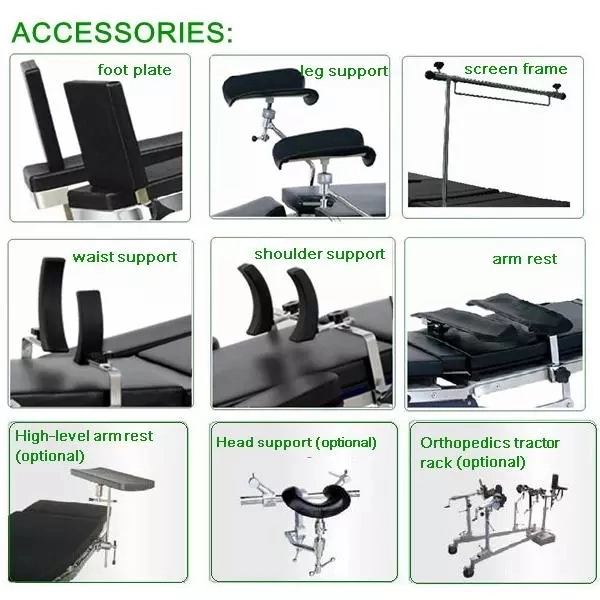 Technical Specification
length: 2050±50mm
Width:  480±20mm
height:(750—950)mm ±50mm
forward: ≥30°    backward: ≥25°
leftward: ≥20°    rightward: ≥20°
Head board:  Fold upward≥30°    Fold downward≥90°
Back board:  Fold upward≥80°     Fold downward≥10°
Leg board:   Fold downward≥90°  Fold outward≥90°
Waist board elevation: ≥120 mm
NOTE
1.Base is stainless steel
2.Leg board is separated & dischargeable,separate leg part, double top
3.Double-decked can do X-ray
4.DIMENSION (CM):133*78*105
5.PACKAGE: wooden
6.G.W. (KG):300