Hot-selling handheld fluorescence detector Portable ATP Bacteria Meter
MCL-H32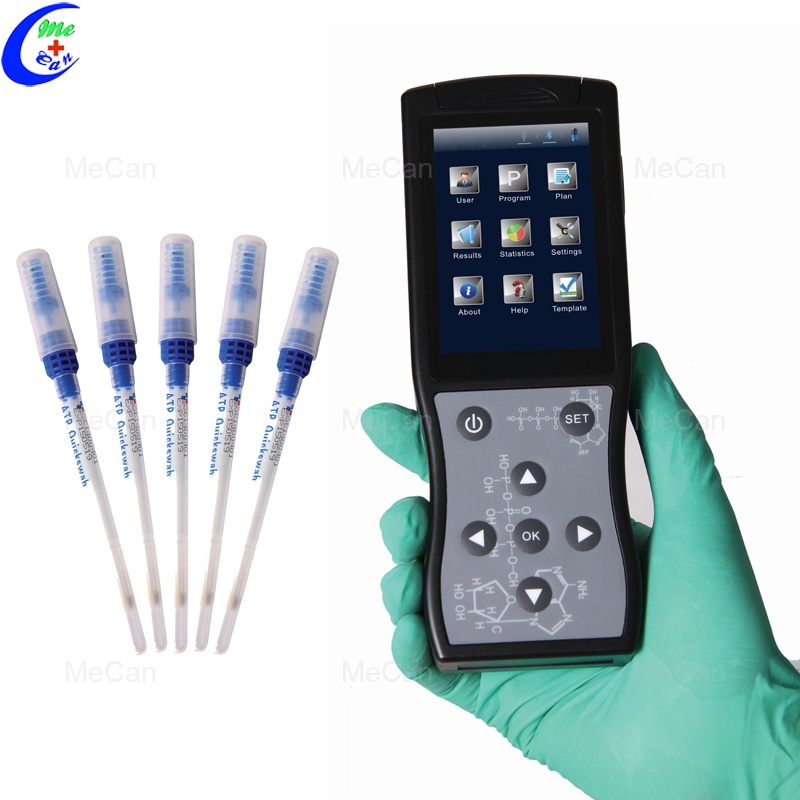 Working principle
ATP is a molecule commonly found in all living cells, it is the direct metabolism energy substance for living organism, which has special important meaning for the existence living organism and the life process. The ATP molecules will be quickly disintegrated after the death of organisms. ATP bioluminescence takes the advantage of the catalytic activity of the naturally-occurring firefly luciferase, which will oxidize the luciferin to oxyluciferin while the consumption of ATP molecules. With extra substrate, the fluorescence produces through this reaction will be linear proportional to the amount of ATP molecules. Thereby the amount of living cells could be quantified by the measuring the fluorescence produced through ATP bioluminescence.
ATP Quickswab is a product that base on the ATP bioluminescence principle, intended to detect the microorganism contamination of the degree of the test samples. The sensitivity of the ATP Quickswab is 5×10-15mol ATP and the luminous half-life is greater than 2 minutes.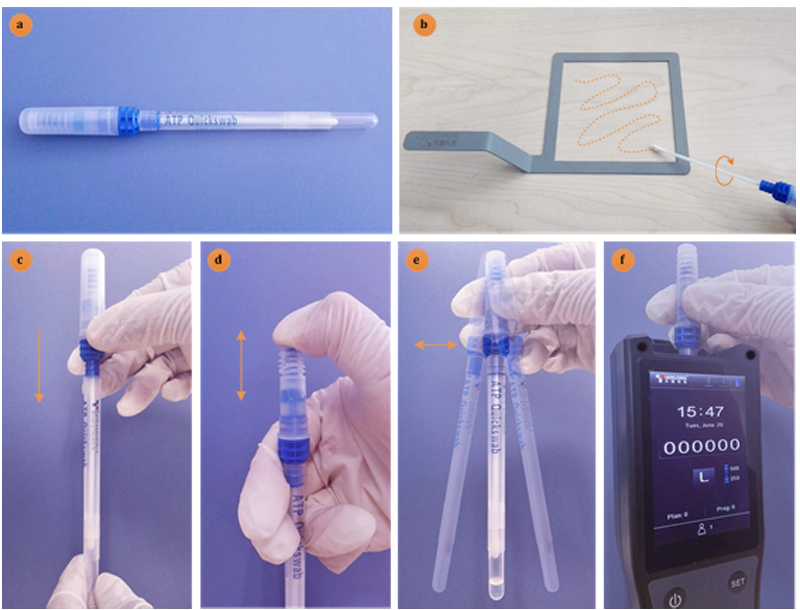 Directions for usage
1. The structure diagram of Quickswab is as shown in figure 1.
1. Take out the Quickswab from the refrigerator. Wait about 15 minutes until the internal reagent reaches the room temperature.
2. Hold the joint part of the Quickswab and unplug the cap at the unplug point, as shown in figure 1. Remove the test tube and pull out the pre-moistened swab tip. Keep 30 degrees angle of the swab tip and zigzag swab the sampling area, please remember to rotate the swab tip while swabbing. As shown in figure 3, the sampling area should be around 10 x 10 cm2 and it could be marked within the sampling card.
3. After swabbing, please hold the joint part of the Quickswab and insert the swab tip back into the test tube. Squeeze the cap and make sure the intermediate sealing layer is fully pierced by the cross-head penetrator, as shown in figure 
4. Ensure the reagent within the cap flows into the bottom of the test tube and submerge the swab tip. Please shake the test tube for 5 seconds, ensure the reagent is completely mixed with the sample to be test.
Insert the Quickswab into the detection chamber of Tianlong ATP hygiene monitoring system, make sure the device is not upside down and the inserted Quickswab is in vertical position, as shown in figure 
     5. Close the device cover and press 'OK' to startup detection. After 10 seconds, the detect result will be displayed on the device screen