Auto Chemiluminescence Immunoassay CLIA Analyzer Systems
MC-CIA 600 is a small full-auto chemiluminescence analyzer characterized by small size, low maintenance costs, and complete reagent test menu. It is particularly suitable for the medium & small hospitals and hospitals in remote areas.
Advantages and Characteristics
Reagent System
1. Micro superparamagnetic beads, quick response and complete reaction.
2. New APLS substrate,and the time to reach platform stage can be shortened to less than 20s, which can greatly shorten the test time.
3. Complete test menu which can be applied in the detections of thyroid function, fertility, GlycoMetabolism, bone metabolism, tumor markers, Hepatic fibrosis, Prenatal screening, cardiac markers, etc. The menu will be expanded.
4. Six-point / two-point calibration.
Reagent Loading
1. 10 kinds of reagents can be loaded at the same time, and continuous loading can be implemented without stopping the test.
2. Barcode scanning to load the reagent kits.
3. Automatic continuous magnetic bead mixing system.
Sample Loading
1. 78 pcs of samples can be loaded at the same time, and continuous loading can be without stopping the test process.
2. Networking with LIS connection.
3. Compatible with primary collection tubes(75mm/100mm).
Other Advantages
1. Disposable tip sampling system to avoid cross-contamination
2. 24-hour standby,samples can be detected at any time
3. Batch processing, STAT
4. Liquid level detection , reagent volume monitoring, failure alarm
5. Automatic dilution, and the dilution ratio can be set randomly.
6 .Incubation conditions:37℃ stable.
Advanced Detection Principle
Magnetic solid phase separation CLIA-Combination of magnetic solid phase technology and Chemiluminescence technology
Wider linear range, higher sensitivety and test speed, fully meet the clinical need
Low Failure Rate Design
Tip size same as the reaction tube size
Same mechanical unit shared, lower tailute rate
Intelligent Sample/reagent Carousel
Intelligent allocation for the reagent/sample position according to the customer's requirement
Streamlined Operating System
User-friendly interface, simple and convenient
Intelligent Calibration&QC
LIS connection
Data editing, storage, query and printing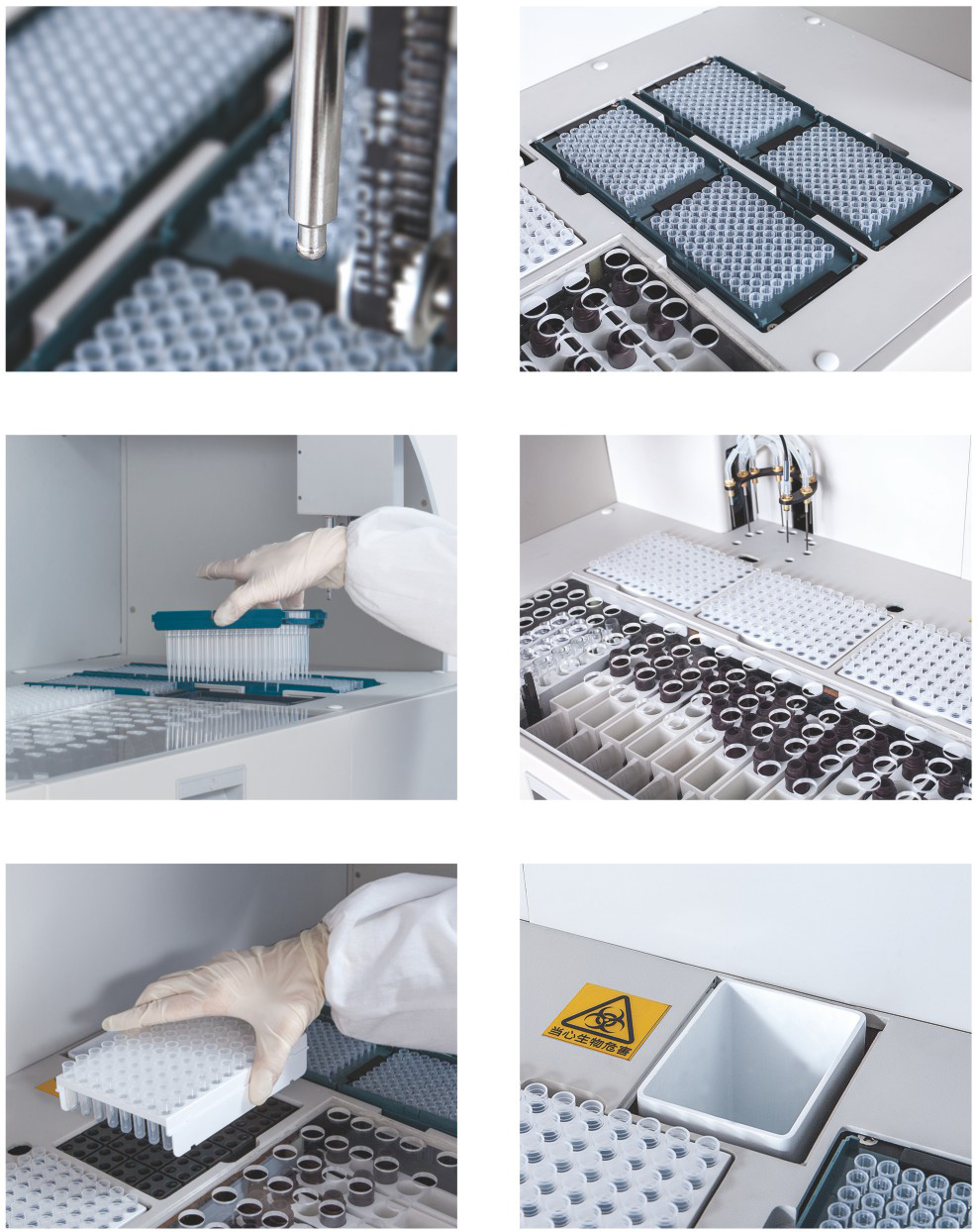 Intelligent Sample/reagent Carousel
Sample positions: 5-75, intelligent allocation,continuous loading
Reagent positions: 1-15, intelligent allocation,extendable
Barcode scanning to identify and locate sample/reagent, avoid human error
Reagent storage and expiration reminder, avoid waste
Auto mixing for the magnetic beads reagent
Refrigerated function, ensure best condition of sample/reagent
STAT

4-hour Unattended Tip/Reaction tubes Loading Area
Adopt TIP for sampling to avoid cross-contamination
Tip size same as the reaction tube size Same mechanical unit shared, lower failure rate
Reaction tubes: 288pcs, extendable
Tip: 384pcs, extendable
Precise Temp-control Incubation Tray/Complete Separation Cleaning Tray
Incubation tray: 37±0.1℃, ensure complete reaction
Cleaning tray: 4-step auto cleaning, completely separate the solid phase from the free phase
Sidewall opening of the probe ensures the solid phase completely separate from the free phase

Innovative FITC- Separation Technology by Magnetic Beads Binding with Anti- FITC
Tublar chemiluminescence technology, Flexible
Antibody and antigen reacts in liquid status, full time and complete reaction
Only 5 minutes for magnetic beads involved in the reaction, avoid the non-specific adsorption
Superparamagnetic beads, solid phase easily separates from free phase
Strict process control, small intra-batch differences
Innovative AP-APLS Chemiluminescence Technology
High sensitivity, no less than 10-21 per unit
Innovative APLS substrate, reach plateau period fast
Long plateau period, stable signal, easy detection
Monocomponent non-oxidizing substrate,easy operation, long validity
Test menu