Blood Gas Serum Electrolyte Analyzer For Electrolyte Measurement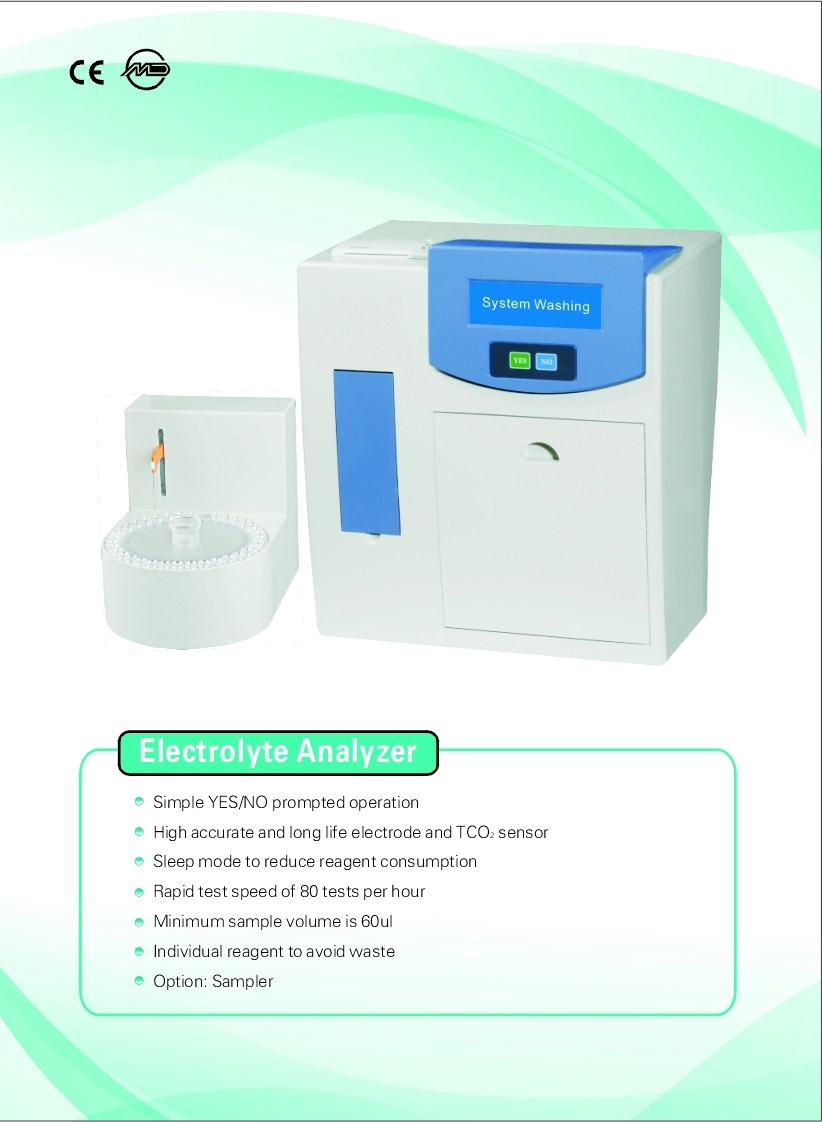 Model A:   K, Na, Cl
Model B:   K, Na, Cl, TCO2
Model C:   K, Na, Cl, iCa, nCa, Tca, PH (5 items 7parameters)
Model D:   K, Na, Cl, iCa, nCa, Tca, PH, TCO2, AG (7 items 9parameters)
Model E:   K, Na, Li
Model F:   K, Na, Cl, Li
Model G:   K, Na, Cl, Li, TCO2
Model H:   K, Na, Cl, iCa, nCa, TCa, PH,Li (6 items 8parameters)
Model I:     K, Na, Cl, iCa, nCa, TCa, PH, Li, TCO2, AG (8 items 10 parameters)
Automatic conveyor panel (Optional)
Management database software of Electrolyte
What is the detail of our Measuring parameters?
Measuring parameters
| | | | |
| --- | --- | --- | --- |
|   | Measuring ranges | Resolution | CV% |
| K+ | 0.50-15.00 mmol/L | 0.01 mmol/L | ≤1.0% |
| Na+ | 30.0 -200.0 mmol/L | 0.1 mmol/L | ≤1.0% |
| Cl- | 20.0 -200.0 mmol/L | 0.1 mmol/L | ≤1.0% |
| Ca++ | 0.10-6.00 mmol/L | 0.01 mmol/L | ≤1.5% |
| Li+ | 0.10-5.00 mmol/L | 0.01 mmol/L | ≤2.0% |
| pH | 4.00-9.00 | 0.01 | ≤0.5% |
| TCO2 | 2.0 -70.0 mmol/L | 0.1 mmol/L | ≤3.0% |
What is the detail of our Technical specifications?
Technical specificati
| | |
| --- | --- |
| Measuring time | ≤25~90s(Type A~Type I,Time for sampling, measuring, washing and printing) |
| Sample size | 60~300μl(Type A~Type I,optional) |
| Applicable specimens | blood serum,blood plasma,whole blood,cerebrospinal fluid and dilute urine |
| Data storage | 1000 |
| Automatic sampling | No |
| Display | LCD |
| Operating mode | YESNO button |
| Print | ntemal graphic thermal printer |
| Air bubble test | Yes(optional) |
| Alarm for waste liquid overflow | Yes(optional) |
| Alarm for standard liquid level | Yes(optional) |
| Barcode scanning | No |
| CPU | 16bit |
| communication interface | RS232 |
| Online software | NO |
| Working condition | Temperature: 5°C~35°C Relative humidity ≤80% |
| Power | AC220V±20;50Hz±1Hz |
| Weight | 12kg(Host machine) |
Technical characteristics for the Electrolyte Analyzer: 
  The whole running process of the equipment is controlled by acomputer.Also,automatic electric potential tracking and correcting software are adopted to ensure its stable performance.
  There are only two press button(i.e YES and NO)on the equipment while the menu is completely in English. Once there is a failure,the equipment will automatically prompt and remove it. It is really convenient.
   The machine adopts innovative international patent technology such as wave theory flushing method and direct flushing pipe method to avoid block and crossed contamination.
   Every time putting the specimen into the machine,the machine could simultaneously detect eight ions including K,Na,Cl,iCa,nCa,TCa,pH,Li,TCO2,AG as well as ten parameters.
   It can absorb the specimen and calibrate the ion automatically,and make analysis quickly. It only takes 25s to finish the process of absorbing the specimen to indicating the result.
   After conducting analysis to specimens,the equipment will automatically flush,keeping the electrode standby in clean status.
   It has a ultra large screen with completely English display,which is quite clear for operators . The built-in printer can print out the result , so it's very quick and convenient.
   The equipment is set with quality control correction procedure,and capable of correcting measured data automatically,as well as by the two parameters of pith and average deviation. 
   The equipment is capable of storing 1000 result, and it can be extended to be more than 10000.The equipment will automatically refresh once it reaches the store limit.
   Our services offices are distributed all over the nation. Users are regularly visited, and their problems as well worries will be removed.
Reagent Of Electrolyte Analyzer !
Packing list    Type A
No.
Items
Quantity
Remark
1
Electrolyte analyzer
1unit 
 
2
K Electrode
1pcs
 
3
Na Electrode
1pcs
 
4
Cl Electrode
1pcs
 
5
Reference Electrode
1pcs
 
6
Calibration Solution A
1 bottle
350ml
7
Calibration Solution B
1 bottle
350ml
8
Reference Electrode Internal Solution
2 bottles
10ml
9
Electrode Internal Solution
1 bottle
3ml
10
Cleaning Solution
1 bottle
110ml
11
Activating Solution
1 bottle
110ml
12
QC Solution
1 bottle
110ml
13
Electrode Wash Solution (Protein Enzyme)
5 bottles
25mg
Electrode Wash Solution (Diluent)
5 bottles
1ml
14
Operating Manual 
1copy
 
15
Instrument power line
1 unit
 
16
Printer paper
1 roll
 
17
Waste bottle 
1 bottle
 
18
Cap with hole
2 units
3units (Types with CO2)
19
Special injector pinhead 
1unit