23 L Automatic Ethylene Oxide Sterilization Machine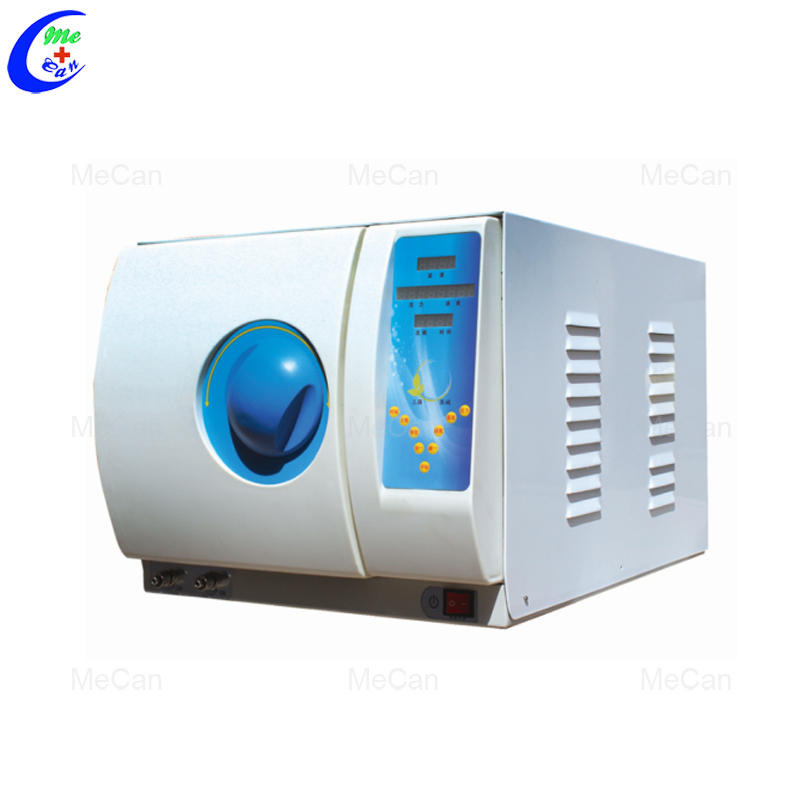 1. Select gas: pure epoxy ethane gases
2. Epoxy ethane single usage: 100 g
3. Adjustable disinfection time: 0-99 hours
4. The vacuum speed: 5 minutes to 60 kpa
5. Ventilation air replacement: automation, cycle ventilation 3 times, interval for 30 minutes once a year
6. Full automatic control system: one-click start to the end, the whole process of completion
1. Display status: temperature, humidity, pressure, sterilization time and residual gas processing time, the number of times
2. Printer: using micro printer, print out the data per minute, of the sterilization process can be used as permanent preservation.
3. Humidity sensor: built-in humidity sensor automatic detection chamber humidity, ensure no lumen humidity below 45% RH.
4. Pressure sensor: built-in pressure sensor automatic detection cavity pressure, to ensure that the cavity pressure precision effectively.
5. Temperature sensor: built-in temperature sensor automatic detection chamber temperature,
to ensure the cavity temperature kept at 50 ℃ + 3 ℃ precision scope.
6. The vacuum system: using oil-free vacuum pump, simple, convenient and vacuum rate, long service life.
7. Sealing door: 200 kpa pressure resistance, EO gas no leakage.
8. Humidification system vacuum pulse type humidification, ensure uniform chamber humidity control;
9. Automatic dosing at first sterilization room built-in piercing technology, make full use of zero leakage, gas is more safe and reliable.
10. Automatic memory recovery function when unexpected power outage, sterilizer memory stop automatically when the state,
to restore power automatically from the original state.
11. Heating system: adopting the screen type heating system, temperature more uniform precision, convenient and quick.
12. Various protective functions: there is the function of overvoltage overtemperature protection, more safe and reliable.
| | |
| --- | --- |
| Volume | 23L,40L |
| Power consumption | 1.2 kw |
| The tank size cm (diameter x deep) | 24 x 47 |
| Oad cm (length x width x height) | 47 x 67 x 45 |
| Sterilization temp | 50ºC ±5ºC |
| Operating space area (cm) | 100 x 70 x 60 wide |
| Disinfection chamber material | anti-corrosion type 304 stainless steel |
| Carton materia | carbon steel (1.8 mm) thick plastic powder |
| Sterilization temperature | 50 ℃ + 3℃ |
| Job stress | - 60 kpa |
| The highest pressure value | - 140 kpa |
| Disinfection of humidity | 45-75% |