Sonoscape S22 Portable Cardiovascular Ultrasound Machine With Elastography
As SonoScape steps forward to add value and efficiency to ultrasound, MC-S22 was designed in the user-friendly platform to address the current and future demanding needs in women healthcare. Meanwhile, MC-S22 has the advantages of good mobility and ergonomic design which is not only convenient for doctors to operate, but also give comfort for patients. Backed by the proven technologies of SonoScape, MC-S22 committed to providing you a new generation of high image quality especially in detecting abnormalities or small lesions to enhance the accuracy and precision of diagnosis.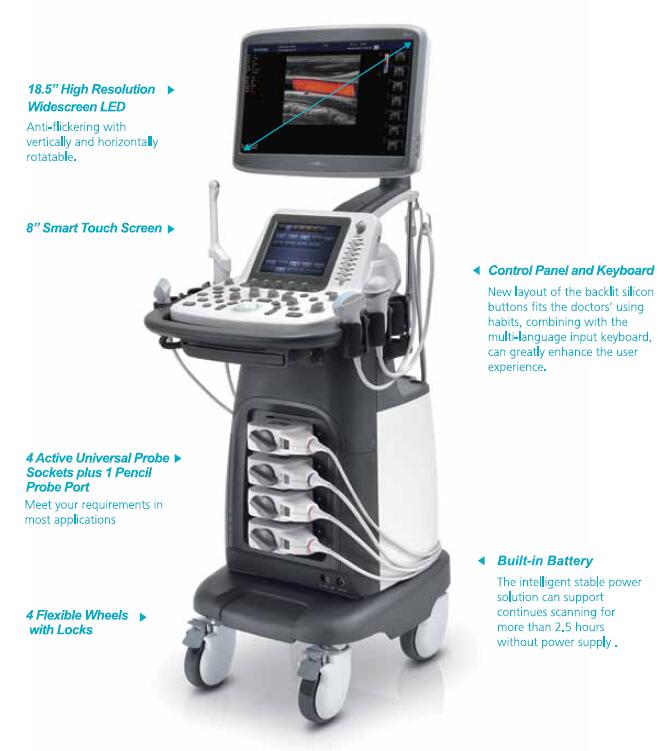 Prominent performance
Pulse Inversion Harmonic Imaging
Image high-level detailed and contrast resolution improved by reducing noise and clutter in the visualizing of subtle lesions, small parts, vascular and so on.
Compound Imaging
Result in a better contrast & spatial resolution and stronger penetration by reducing speckle and enhancing the border detection, with which MC-S22 is ideal for superficial and abdominal imaging with better clarity and improved continuity of structures.
u-scan
Our new-generation p-scan technology greatly improves the visibility of organs and lesions, the high-definition contrast resolution will suppresses speckle artifacts while maintaining real tissue architecture.
Application
Accurate diagnostics results in OB/GYN application
High-class Volumetric Probe
The humanized deign enables the probe to move freely in doctors hand for performing a fluent exam. Meanwhile, let Moms feeling well without feeling any discomfort.
Wide Scanning Angle Endo-cavity Probe
Combining with the unique temperature-detection technology, MC-S22 shows a great advantage of shortening the examine time while improve and safety of the patients.
Flexible user-defined Keys
Except for the professional OB/GYN measurement and package, MC-S22 equips with user-definable OB formula and shortcut keys which make the diagnosis more efficient
Ultrasound-guided Puncture
Intervention of diagnosis and treatment by ultrasound are very popular nowadays. MC-S22 provides you a series of biopsy guides for ultrasound-guided puncture ' fitting to different clinical application. While the biopsy of biplane probe for seed implantation extends}the use of ultrasound from diagnosis to treatment.
Real-time Dual Imaging
Dual live imaging, makes the visualization of anatomy and blood flow possible in every exam. Using this imaging with biplane probe also enable the positioning of lesion.
Outstanding 3D/4D Imaging Quality
Now, you can be more confident in carrying out your everyday exams and just focus on your patients.
Premium Convex Probe
Broad band convex probe can fit the needs of different patients in scanning deeper organs with a stronger penetration
Advantages
MC-S22 owns an extraordinary ability in radiology by the combination of our prominent imaging technology, unique probes, distinguished hardware and software.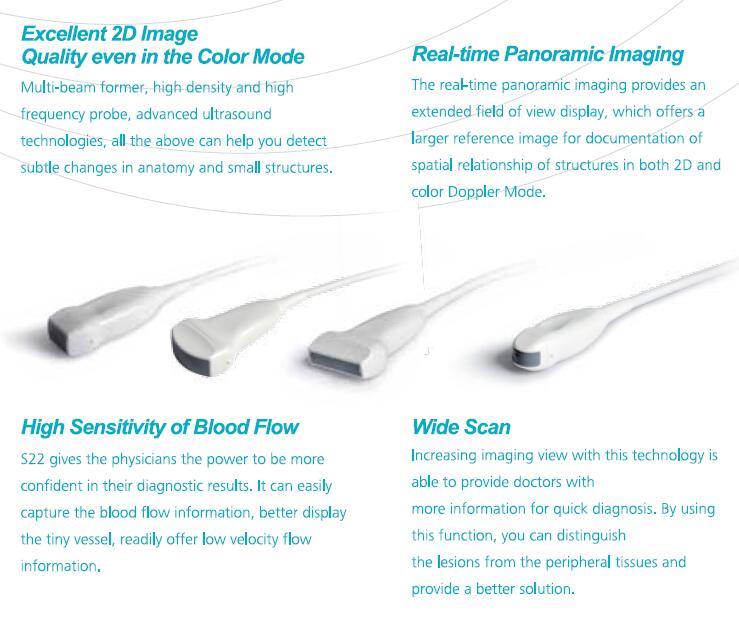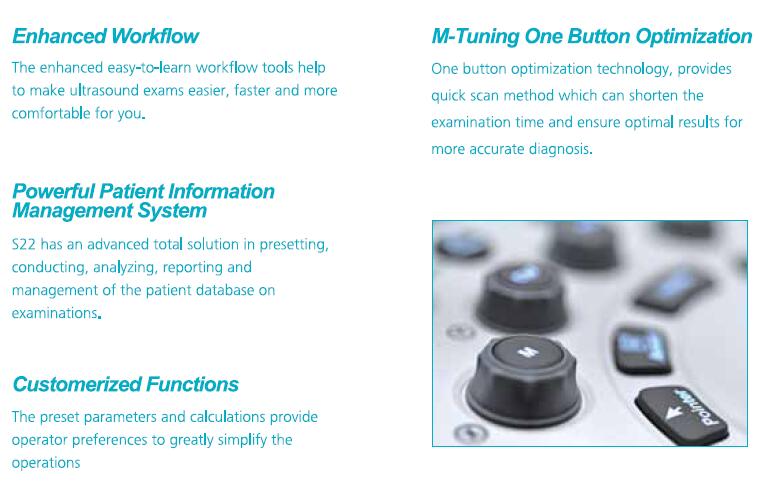 More images