15 Inch LCD & Touch Screen Hemodialysis Machine 
Model:MC-HD02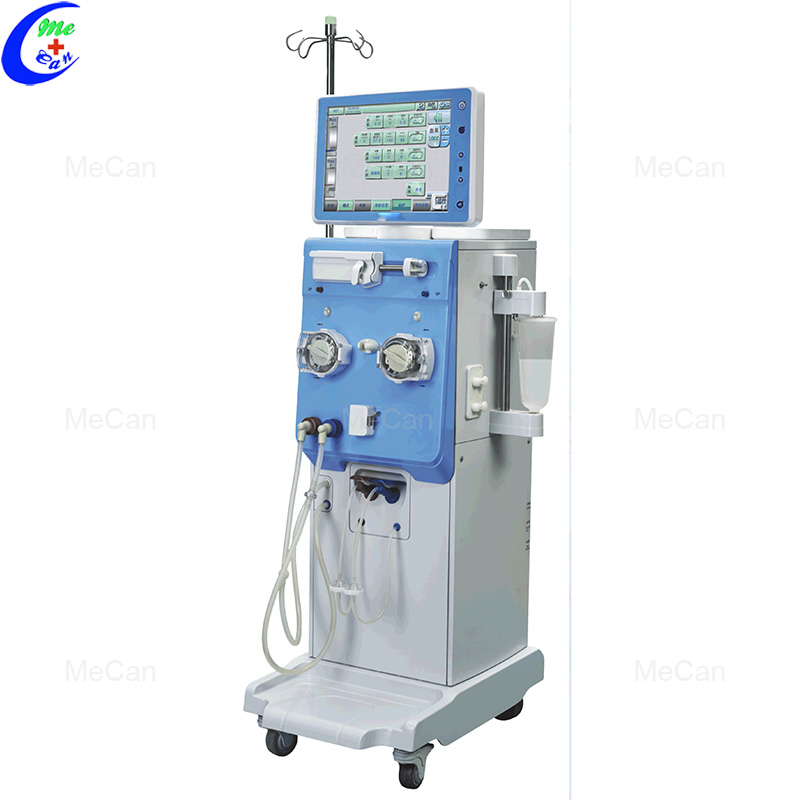 Application:
Hemodialysis equipment is applied to HD、HF-online、HDF-online、IUF、Low flux continuous dialysis 、HP、Plasma exchange 、Plasma adsorption etc.
Features:
1. 15 Inch LCD+Touch screen with multi-angle rotation, Chinese and English etc, multi-language interface enables the operation much more convenient.
2. Guided operation interface make the operation much more convenient.
3. Daily automatic power on-off time and disinfection modes can be preset, all disinfection condition can be recorded.
4. Automatic venous level detector, can avoid the blood exposed to air, so that the contamination can be reduced.
5.KT/V calculation evaluates the sufficiency of dialysis.

6.Substitution automatic rinsing, decrease the workload of the hospital staff and reduce the cost.
7. Automatic dialyzer charging and discharging
8.Treatment parameter、patient information and running states can be recorded ,  the history information can be read in real time.

9.Intelligent maintenance system enables the maintenance more convenient.
Powerful Function:
1.10mL、 20mL、 30 mL and 50mL syringes are available, the type of syringe can be checked automatically, and it has perfect self-test and alarm system, and supports heparin profile.
2.The heart rate and blood pressure of patients can be detected and recorded automatically during the dialysis, ensures the safety of treatment, reduce the hospital staff workload.
3.Ultra-pure dialysate supply, improve the patients' life quality.
4.Isolated HP mode, decrease the self-test time and dialysate waste.

5.Preset a variety of standard dialysate formula, and also the formula can be customized for different needs, the formulas are suitable for all brands of solution or dialysis powder.

6.The bicarbonate and acetate dialysis adapt to various treatment needs.

7.Singledouble needle dialysis are suitable for more clinic selection.

8.The standard profile of variety of sodium, UF rate, bicarbonate, heparin flow, dialysate flow, dialysate temperature ,and custom profile can offer personal treatment.

9.Convenient process for sequential dialysis (dialysis ←→IUF)、high-low sodium sequential dialysis.

10.The network USB can realize information management of the patients and equipment.

11.The function of central dialysate supply can realize the automatic connection with concentration supply.