Ultrasonic Diagnostic Automatic High Effective Portable Ultrasound Bone Densitometer 
Model:MCU-BDA3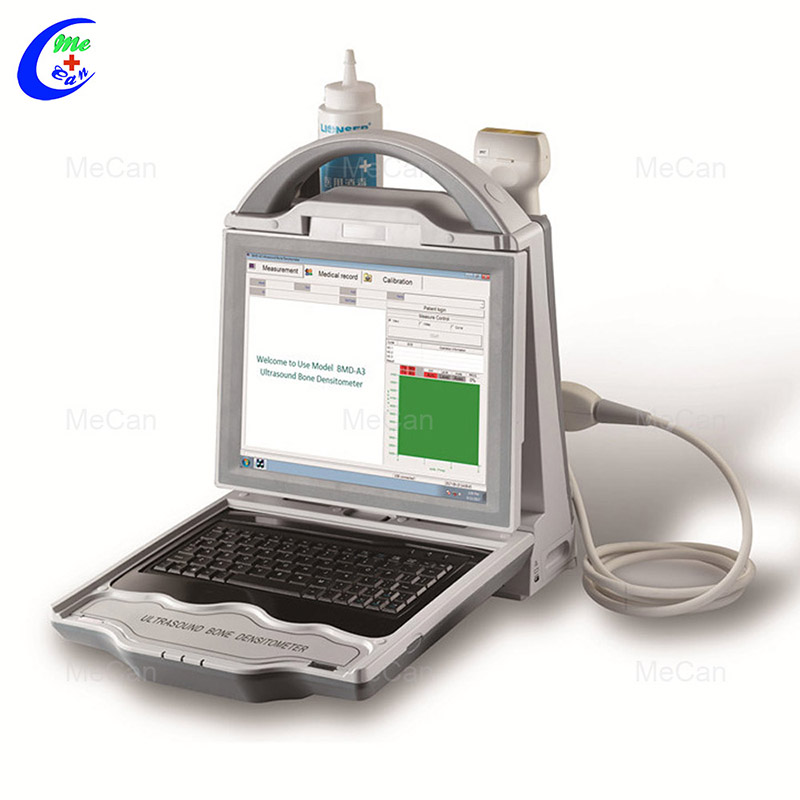 Performance parameter:
1.    Measurement parts: radius and Tibia
2.    Measurement  mode: double emission and double receiving
3.    Measurement parameters:  Speed of sound (SOS)
4.    Analysis Data: T- Score, Z-Score, Age percent[%], Adull percent[%], BQI (Bone quality Index ), PAB[Year]  (physiological age of bone), EOA[Year] (Expected Osteoporosis age), RRF(Relative Fracture Risk).
5.    Measurement  Accuracy : ≤0.25%
6.    Measurement Reproducibility:  ≤0.25%
7.    Measurement  time: <25 seconds
8.    Probe frequency : 1.20MHz
9.    Date analysis :  it adopt a special intelligent real –time data analysis system, it selects the adult or child databases according to the age automatically 
10.  Temperature control: Perspex sample with temperature instructions
11.   Probe measurement navigation:  this equipment display the Axial angle ,  the Horizontal Angle , the Direction Angle between the probe and the bone plane, it display the change of the real-time angle data.  It is easy to correct the measure angle quickly, improving the measure speed , improving the data Accuracy.
12.  Probe crystal indication: it display the working condition for the four crystal of the probe, and the signal strength for the ultrasonic reception.
13.  Daily Calibration:  automatic calibrating after power on.
14.  All the people of the world. It measuring the people between the age Of 0 and 100,(Children: 0-12 years old, Teenagers: 12-20 years old, Adults:20-80 years old, The Elderly 80-100 yeas old,  only need to input the age and recognizing automatically .
15.  Temperature display calibration block:  the calibration with pure copper and Perspex,  the calibrator display current temperature and standard SOS. The equipment leave the factory with Perspex sample.
16.  repot mode: color
17.  Report format: supply A4, 16K ,B5 and more size report
18.  Portable model
19.  Computer configuration: CPU dual core, 4G memory, electronic hard disk, wireless mouse
20.  Printer: optional
21.  Bone densitometer probe connector: multipoint access mode with high shield and mold manufacturing, to ensure the lossless transmission of the ultrasonic signals.
22.  External medical special power supply, power>60W
23.  Connect to the internet and provide remote services.
24.  Monitor: 10.4' color HD color LED monitor.
25.  Fluid Protection: main unit waterproof level IPX0, probe waterproof level IPX7
26.  Main unit weight< 4kgs, easy to carry