we are a 3rd level medical supply international trading company in China, wondering if you need any supplies to fight covid19. Please keep in mind that we can accept we can supply:Medical Ventilators Medical VentilatorAeonmed 510s Medical VentilatorAeonmed HFNO (NeoNif-i7) Medical VentilatorMindray SV300The SV300 is a state-of-the-art ventilator thats simple to configure, easy to operate, and versatile in use. It treats pediatric and adult patients with all acuity levels at ICUs and Intermediate Care.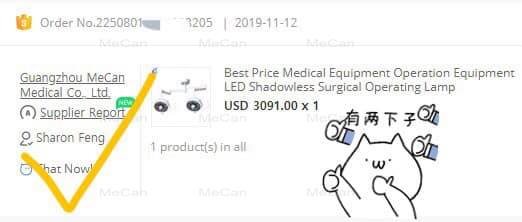 AdaptiveWith its comprehensive list of standard features, including the latest modes of ventilation, the SV300 is appropriate for all levels of patient acuity and in all care settings, from the patients bedside to transport to another point of care.ComprehensiveEquipped with functions that are usually found on intensive care ventilators, the SV300 comes with extensive ventilation modes, and the unique features make it a top level ventilator. SimpleThanks to the intuitive UI design of the SV300, each function is in logical order so that clinicians do not need to navigate a complex user manual.
In addition, both the valves and flow sensor support autoclaving. This safety concept is designedto meet the current clinical trends of protecting patients even under the most demanding conditions. ACM 812A Medical VentilatorSuperstar S1100 Medical VentilatorEternity SH300 Medical VentilatorPuao PA700B Medical VentilatorBMC Y30T Medical VentilatorBMC B30VT G3 Medical VentilatorYuwell YH830 Bi-level PAPYuwell YH-830 Bi-level With Independent HumidifierYuwell YH-830 Bi-level With Independent Humidifier&WITH LCD SCREENMasks:HENGAN surgical KN95/FFP2 maskJUSENYUAN N95/FFP2 maskDisposable medical maskDisposable maskSANQI NIOSH N95 particulate respiratorDASHENG NIOSH N95 particulate respirator3M 18603M 8210Gloves:nitrile gloveslatex gloves powderedlatex gloves powder freenitrile gloves powder freesuits & gowns:disposable non-sterile protective suitdisposable medical non-sterile protective suitdisposable medical sterile protective suitdisposable sterile surgical gowndisposable non-sterile surgical gowndisposable surgical gown 25gdisposable coverallprotective non-sterile suitdisposable medical sterile protective suitemail: thaddeus.
phone/whatsapp: 8619957895939wechat: RELATED QUESTION What are the key performance indicators for a surgical instrument sales company? Would depend on the company selling, but most likely a company selling such equipment would need to track: Number of units sold Revenue generated per month or quarter MRR (monthly recurring revenues) Tracking follow-up dates for re-stocks Product rotation tracking (if items have an expiry date) Quality assurance (both stock and transport) Invoicing & payment tracking And of course, all of the relevant data of their clients. Perhaps worth contacting a hospital administrator and see if they can help you directly.
Or indeed, another medical equipment supply company. We have several medical equipment suppliers using our software and each have different metrics and KPIs. Hope this helps!